Forget those cold Siberian winds and the odd specks of snow still floating about – in our books at least in the world of fashion, spring has officially sprung and swept in all of those gorgeous new spring fashions that we can't wait to try out. Spring in general does tend to favour pastel colours, but this season one of the biggest colour trends is for lilac.
Lilac, lavender, mauve – whatever you want to call it, it is going to be everywhere so it is a good idea to have a think about introducing one or two pieces of this luscious shade into your wardrobe now. Dainty, feminine and a really flattering shade for practically any skin tone, it is time to fall in love with lilac.
The jumper
Sure a lot of us have dreams of shedding those bulky layers and stepping straight into a tea dress as soon as March rolls around, but the truth is those biting winds will be around for a month or two yet so it is wise to hang onto your cosy knits. A chunky lavender sweater is perfect for wearing with your jeans and favourite trainers – laidback and undeniably cool, it is probably the cosiest way to try out this colour trend.
Jeans
Pastel jeans always start appearing on the high street round about now, so instead of the usual lemon yellow or blush pink, try out a pair of pale purple jeans instead. Fun, quirky, and that little bit more unusual, you'll find you can slip easily from spring to summer with a style that's sweet as candy!
Trainers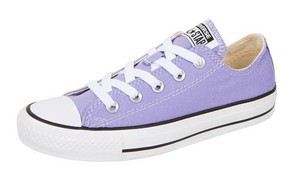 These days we all get to enjoy the fact that trainers are seriously in style, and since they're better for our feet, comfortable and not to mention practical, long may this trend continue! For a pair of trainers that are perfect for spring, we are always going to love a pair of Converse. Avoid hi-top styles with your skinny jeans and skirts and choose pump styles for a lighter and more girly look. And of course choose a pair in a stunning lavender shade that you're simply going to love wearing all season long and beyond.
Beauty
If you'd rather not start investing in new bits and pieces for your already over-stuffed wardrobe, then you can always get in on the lilac action thanks to your beauty products. Think parma violet nails with perhaps a bit of glitter (what can we say – we're fans!), shimmering pastel eye shadows and even mauve lipsticks for a retro way to embrace the colour. Simple, quick and of course pretty budget, this can be a great way to give a subtle nod to the trend.
As the hit colour of the season, you can't avoid lilac at the moment, so start trying out these looks for your style.